Our services are reliable and effective!
Are you looking to get your garden in shape for the upcoming growing season? Our garden clearance services in Redhill RH1 are the perfect solution. We understand that maintaining a garden can be a difficult and time-consuming task, which is why we offer a range of services to help you get your garden looking its best. Whether you need help with pruning, weeding, or removing debris, we've got you covered.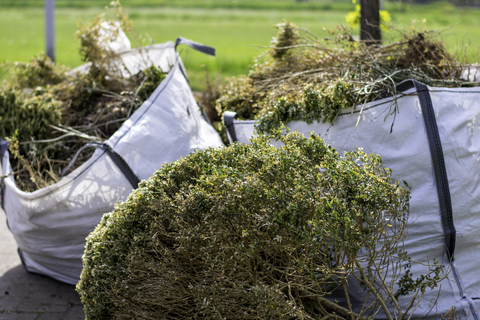 Garden Clearance in Redhill RH1
Our team of experts will work with you to create a custom plan that addresses your specific needs, whether that means removing overgrown shrubs, cutting down dead trees, or simply tidying up the area. We can help with all your garden furniture removal needs, so if you live in Redhill and want to give your garden an overhaul, get in touch and we can discuss how we can help.
Maintaining a beautiful outdoor space requires regular garden clearance. With the right tools and knowledge, you can transform your messy garden into an inviting and picturesque retreat. In this article, we will discuss garden clearance in Redhill Surrey and provide tips for creating a stunning outdoor area.
Why is garden clearance important?
A cluttered garden not only looks unsightly but can also pose safety hazards. Overgrown plants and debris can obscure pathways and create tripping hazards. Additionally, accumulated debris can provide hiding spots for pests and rodents, which can damage your garden and invade your home. By regularly clearing your garden, you can enhance its appearance, safety, and functionality.
Redhill Patio Cleaning and Garden Clearance That'll Give Your Garden Back to You
Our service in Redhill for patio and garden cleaning is an affordable and easy way to restore your outdoor space. You can choose the time and we'll reward you with an excellent service.
Amazing value for money! Check out our rates today! Talk to our team about how you can save money when you combine your services.
We offer customer service 24 hours a day – our phone lines are open 24/7 to provide you with the assistance you require.
No-cost quotes and rescheduling are included. You'll know how much our services cost.
Wide range of other services you can book at preferential rates: be it garden design, tree surgery or gutter cleaning
Experience Comprehensive Garden and Driveway Cleaning in Redhill
Our service in Redhill for driveway and garden cleaning is perfect for you, whether you have a commercial property or just need to clean up your garden. We have the right tools to do a clean and thorough clearance. But we also have the state-of the-art pressure washer technology. This allows us to easily wash all surfaces, including bricks, concrete, and tarmac. It can even remove stains from rusting barbecues. We'll help you with your outdoor chores.
Get Garden Clearance from a Highly Experienced Team
Since 1998, we have been offering garden clearing services in the area. We are a well-respected company and can help with any size garden removal job. All of our teams have been specially trained and are fully insured. We only use the finest equipment. Visit our testimonials page to see what other customers have to say about us. After we have completed work, we collect feedback. This ensures that we provide the best service possible.
Why Choose Gardening Redhill for Your Garden Clearance?
At Gardening Redhill, we pride ourselves on providing top-notch garden clearance and garden rubbish removal services. Our team of experienced professionals will work with you to create a custom plan that meets your needs and budget. We use the latest tools and techniques to ensure that your garden is cleared quickly and efficiently. Plus, we offer competitive rates and a satisfaction guarantee, so you can rest assured that you're getting the best value for your money.
Book Garden Clearance Today – 24/7!
Ready to get started? Get in touch with us today and we'll provide you with a free, no-obligation quote for your garden clearance and garden rubbish removal needs. We look forward to helping you get your garden in shape for the upcoming growing season!
You can reach our friendly advisory team by calling us at 01737 302312 today. The team is well-versed in our services so they will be able answer all your questions. It takes just five minutes to set up your patio cleaning and garden clearing needs. Before you know it, you will have a no-obligation, free quote, as well as any additional questions answered. You can also use our chat feature and book form right from this website.
Want to clear your garden yourself?
Tools needed for garden clearance
Before you begin your garden clearance project, you'll need the right tools. Here are some essential tools you'll need:
Garden gloves – to protect your hands from prickly plants and sharp objects
Pruning shears – to trim overgrown branches and shrubs
Hedge trimmer – to keep hedges and bushes tidy
Rake – to collect leaves and other debris
Shovel – to remove soil and other heavy debris
Trash bags or compost bin – to dispose of garden waste
Steps to clear your garden
Assess your garden – walk around your garden and take note of areas that require attention. This will help you prioritize which areas to tackle first.
Remove large debris – use a shovel or wheelbarrow to remove large debris, such as fallen branches and tree trunks.
Trim overgrown plants – use pruning shears or a hedge trimmer to trim overgrown plants and bushes. Be sure to wear protective gloves and eye goggles.
Rake up leaves and other debris – use a rake to collect leaves, twigs, and other debris. You can either compost or dispose of them in a trash bag.
Tidy up garden beds – remove weeds, dead plants, and any other debris from your garden beds. This will help prevent the spread of pests and diseases.
Sweep and clean paths and patios – use a broom to sweep your garden paths and patio. You can also use a pressure washer to remove any stubborn stains or dirt.
Dispose of garden waste – dispose of your garden waste in a compost bin or trash bag. Be sure to check your local regulations for garden waste disposal.
Final thoughts
Garden clearance can be a daunting task, but with the right tools and knowledge, you can transform your garden into a beautiful and inviting outdoor space. By following the steps outlined, you can clear your garden in no time. If you need help with garden clearance in Redhill Surrey, consider hiring a professional gardening service, such as Gardening Redhill. Their experienced team can help you achieve the garden of your dreams.